By Kathy Bowen Stolz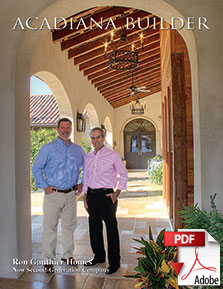 When Lafayette's Ron Gauthier built his first three homes almost 40 years ago, he had no idea he would become a highly respected builder with a second-generation company now headed by his son Stephen, who joined the company 10 years ago.
"We've been through ups, downs and all-arounds since 1978. We think our longevity speaks volumes about our quality, customer service and commitment to our community and industry and, most importantly, our reputation," Ron said.
Stephen added, "A majority of our sales come from word-of-mouth referrals. To us there's no higher compliment than someone trusting us enough to recommend our company to a friend or family member."… Continue Reading