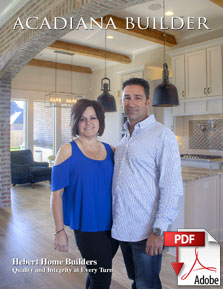 For Jody and Nicole Hebert, building custom homes is a marathon, not a sprint.
"A lot of people in this business are in it for the short term," says Jody Hebert, sipping coffee in between texts and calls from subcontractors. "That's not us. We're long term people."
The Heberts ran a successful irrigation company for over two decades before founding Hebert Home Builders in 2013. Over the course of 20-plus years, they honed their business skills and forged strong connections with clients and subcontractors. In just a few years, they've been able to transform their knowledge into a thriving construction company that prides itself in putting customer service first.