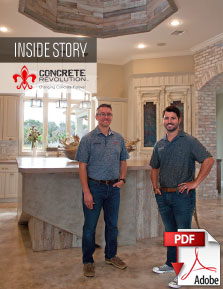 By Kathy Bowen Stolz
What concoction do you create when you start with a floor in a Cheeseburger in Paradise restaurant, add a Google search, blend with natural artistic ability, stir in lots of hard work and add a dash of Facebook?
It's the recipe for success for Keefe Duhon and his nine-year-old decorative concrete company, Concrete Revolution, LLC, located in New Iberia.
The company is now known for its artistic dynamism, its unusual use of concrete and its high quality of work, leading to local, national and international recognition. It received the 2013 Greater Iberia Chamber of Commerce Business Innovation Award while Duhon himself won first place in individual and team competitions at the 2015 Concrete Decor Show. He came in second at the 2016 show.