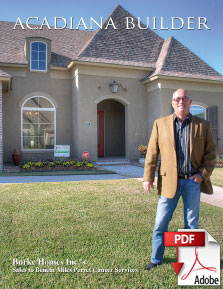 By Kathy Bowen Stolz
Many of us wish we could do more to help those in need, but longtime Lafayette builder Jon Burke is putting his money where his mouth is. Burke announced in late September that he will donate $10,000 per home to Miles Perret Cancer Services (MPCS) from the sales of his recently completed speculative homes at 105 and 107 Henry James Court in Lafayette.
But his generosity does not stop there. His five-year commitment to Miles Perret will include a $25,000 gift in 2017 when the spec house at 102 Henry James Court is completed and sold. Burke also will donate part of his profits from future homes as part of his commitment to MPCS.