Bolgiano Custom Homes & Interiors: Creating A Coastal Living Retreat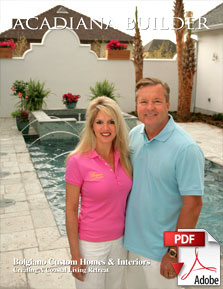 One might not confuse Camellia Boulevard with Florida's Emerald Coast Parkway. On the other hand, their newly constructed bright white stucco, Bahama style home that sits on The Banks at River Ranch is likely to remind one of the Alys Beach, FL, coastal community which inspired Jodi & Clifton Bolgiano to create what can only be called architectural eye candy. The builder/decorator couple, together with Lafayette architect Jarod Hebert conceived and developed the idea to incorporate the classic exterior touches that characterize the coastal architectural style, and then take it to the next level of authenticity by bringing the design elements and sand & surf inspired colors and décor throughout the interior program of the home as well.
"The mission was more than just to simply emulate an appreciable seaside vibe," says Clifton Bolgiano, and then adds, "We always strive to add our own signature touches that will add interest and enjoyment to a home such as incredible custom cabinets and furniture conversion pieces, one of a kind wood floors and tile work, unique ceiling treatments, and, of course, draperies and fabric creations that are show-stopping, drop dead gorgeous, oh no you just did'nt, but yes Jodi just did…as she always does, making the complex and arduous task of balancing colors, textures, fabrics, ornamentation, style, and function look simple and effortless to the casual observer. The truth is, however, Jodi spends 10 even 12 hours a day planning, organizing, and coordinating the logistics of her clients' homes. She routinely goes to all the major market events to meet with her vendors, learn about emerging trends, and stay on top of the latest and greatest decorating products. "It's a lot of work but it's also a lot of fun. I can't explain how gratifying it really is to watch a client walk into their fully constructed, fully decorated new home for the first time. It's just an amazing experience that I always look forward to," Jodi remarks. Another specialty treatment that has become synonymous with the Bolgiano brand are their reclaimed antique doors. These 125+ year old treasures grace the homes of many of their clients as one of their most popular custom design elements. Jodi adds, "Our antique doors are not just for old world style homes. They are equally beautiful and eye-catching in a traditional or even modern style home."
The Bolgianos routinely build homes across all architectural genres including transitional, French country, Tuscan, Hays Town, and traditional. "This project was particularly gratifying because it gave us an opportunity to showcase yet another facet of our capabilities," remarks Clifton. Transitional design elements have been growing in popularity for several years now according to Jodi. Many of her interior design & decorating clients are drawn to the clean, straight lines, and lighter, softer color palates which made their 2014 Acadian Home Builders Association Parade Home a perfect fit to incorporate those types of characteristics. Jodi believes that site orientation and maximizing great view opportunities are important considerations for any new construction plan. Smaller lot sizes have become the new standard these days which necessitates efficient, creative use of smaller outdoor living spaces. Jodi believes that can be a good thing. "It's actually fortuitous in that limited outdoor space forces more intimate arrangement between indoor and outdoor areas," she further comments. In the case of the 2014 builder parade home, it made sense to create a continuum between the outdoor living area and the pool courtyard by doing several things. First, dolphin grey peacock pavers were used to floor the outdoor living area and to deck & cope the pool. Secondly, 9-ft. tall, metal framed, glass doors span the 22-ft. opening between house and courtyard. These bi-parting glass doors fold left and right to afford access to all but 18″ of the entire opening. Visually, it feels and functions like one area. But Clifton points out that the versatility to choose when to open up and let the outdoors in and vice versa is what makes the space convenient and unique.
The high level of detail in this home is obvious to anyone who enters it. White-washed distressed oak floors, Italian marble tile, hand-strung oyster shell custom chandelier, exposed truss beams, hand troweled Italian plaster, antique mirror glass kitchen cabinet doors, translucent marble slab countertops, and arabesque glass tile wall and backsplash treatments are just some of the interior architectural features incorporated in this home. Yes, the Bolgianos are top notch builders. No argument there. But their decorating prowess is equally impressive. Clifton quips, "If Jodi were to ever stop decorating, I'll have to go find another job!" He is quick to credit Jodi as the creative driving force behind their success. Jodi is no ordinary decorator. Clifton describes her as a builder who decorates or decorator who builds if you prefer. One look at the incredible window treatments, the artwork, the furniture & décor, the custom beds (yes, Jodi creates not only the bed-ING but also THE beds), and it's easy to understand the Bolgiano WOW factor. People actually use that term when they call and ask for a meeting to talk about a project reports Clifton. "When I ask what the client is looking for, they sometimes simply reply," 'I want the WOW factor I got when I walked into your home,' "he further explains. That's usually when I call out to Jodi, "Telephone, it's for you, hun!"
Beauty and comfort are important in every home but technology is playing an increasingly important role in terms of client interest as well these days. Yesterday's approach was to pre-wire a house with CAT5 for telephone and coax cable for TV. Today's homes have become much more sophisticated—partly to remote locate unsightly equipment and cable bundles for more appealing visual aesthetics and, moreover, to allow audio, video, and internet systems to be networked and perform at much higher levels of functionality. This home is fully automated. That is, any system that is on an electrical circuit, high or low voltage, can be controlled manually or with automated programming either locally (inside the home) or remotely from virtually anywhere in the world, or at least anywhere with internet access (Hallelujah, now I can turn off my closet light from CC's and Starbucks!). Forgot to close the garage door on your way out this morning? No problem! Spontaneous urge while having dinner at Ruffino's to hit the hot tub when you get home? Don't risk falling asleep waiting for the water to heat up when you get home. Hit the spa button on your smart phone just as they're serving you dessert, and the agua will be perfecto as you arrive home and slip into your speedo…or whatever! The point is…home automation technology can be a wonderful thing. Stick your big toe in the water or jump in head first. The water is fine!
Whether it's building or decorating, it's always hands on for this dynamic duo. "Never trust a builder that doesn't have muddy shoes," teases Clifton. Similarly, Jodi is often spotted on the jobsite with Italian plaster dried between her fingers. "She sure cleans up nice though," dotes an admiring husband! Jodi & Clifton attribute their enthusiasm for the business to a genuine passion and enjoyment of building and decorating beautiful, unique, high quality custom homes. The Bolgianos started their business less than ten years ago but they execute with the ability and confidence as if it were a lifetime pursuit. When it comes to high level execution build and decorate projects, they have become one of the most sought after teams in Lafayette.
"We live in a great community, and are fortunate to participate in such a robust new home market. We hope to be building, decorating, and innovating for many years to come," concludes Jodi.
Jodi & Clifton can be reached via the following respective email addresses:
[email protected]   [email protected]