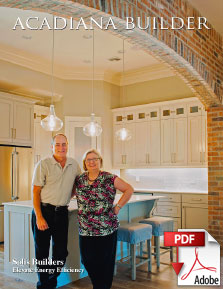 By Kathy Bowen Stolz
Cold and heat can have a lot in common when it comes to building a house, according to Rodney and Shirlene Bender of Solis Builders.
These Lafayette-based contractors learned building techniques to maximize energy efficiency in Wisconsin's cold climate, the same techniques they are using to cut electric bills for their clients in Louisiana.
"We use the latest in materials and technology to maximize energy efficiency. To us cooling a house efficiently is just as important as heating a house efficiently. That mindset is just now coming down this way," Shirlene said. "We're not really 'green' builders, but reducing electric bills is really important to us.
"People don't realize that there's more to energy efficiency than insulation. We chose a HVAC company to work with who understands our mindset. We also taught our framers to adapt to handle the insulation required. And we chose insulation installers who were willing to learn."
She added, "We prefer a manifold system in our plumbing. We also had to find a plumber who was willing to learn to do things the way we wanted. We're particular about the way we want things done, so we're particular about the subcontractors we use."
Solis Builders constructed a house in the 2015 Parade of Homes which emphasizes energy efficiency through technology. "It's very air tight. We encapsulated the building with sprayed foam insulation. We also put in three very high efficiency HVAC units," Shirlene noted.
"We wired it for home automation if the homeowner wants to add it. The thermostat, alarm and even the shower heads in the master suite can be remotely controlled," she added. "You can control the whole house through your smart phone or with access to the internet," Rodney pointed out. We also include a structured wiring system in all of our homes to include Home run phones lines, TV outlets and a home computer networks.
"We've found younger buyers are really into technology. With this house, they say, 'Oh, great! Technology!' But some of the older buyers say, 'Ugh! Too much technology!'" Shirlene added.
"When something new comes on the market, we like to try it. We're very progressive that way," Shirlene said. The Benders learn of those new ideas through the many builders journals they read in addition to seminars they attend and the internet searches they make.
Their 3,500 sq ft Parade of Homes entry's monthly electricity bill was only $170 despite its three HVAC systems and a low temperature setting, Rodney noted.
Shirlene said, "We're very proud of the Parade home. Its features, including landscaping, set it apart, but they're not just bling. We're concerned about our homes lasting a long time; it's in how they're built. We build every house as if we're going to live in it."
Primarily Solis Builders prefers to do custom home building, constructing only five houses in a typical year because it wants to maintain a personal touch with its clients. Rodney is on the job site every day because "when you're not there, you miss things." Solis builds custom homes in all price ranges and sizes, even in the $1 million range. As general contractors, the Benders also do remodeling, additions and outdoor kitchens.
Because Shirlene holds a commercial contractors' license also, Solis Builders does an occasional small commercial project, such as the doctor's office it recently completed.
Shirlene is also CAPS certified. She and Rodney find that universal design that encourages aging in place is becoming increasingly attractive for Lafayette-area homebuyers. Many people in their 40s and 50s begin to think of how they might age in place in their new home. Elements such as the heights of light switches and countertops take on new meaning, she said. Rodney noted that they routinely put wider doors and hallways in their homes to make them more attractive to all future homeowners.
Customer service is a focus for Rodney and Shirlene. "Our goal is to make sure all the little things are taken care of. Our goal is not to have to return to our homes for service calls. We've never had a bad experience with one of our clients. We've never had a horror story like some builders. We've never been afraid to be friends with or face our clients after we finish their homes," Shirlene said.
The Benders relocated to Lafayette eight years ago after visiting some of Shirlene's family in the area. "We came down here at a time when everything [construction] was almost stopping in Wisconsin, where we lived. But everything was going good here in Louisiana. It was a good time to make the move," she said. "We started by doing renovations and additions because the market for custom homes was down."
They brought the Solis Builders name with them. Shirlene said, "We kept the Solis name, my maiden name, because of my dad. I felt a connection to my family that way. My father was a builder, a carpenter/contractor, who had an office in our home in the Chicago area. Growing up I would go into his office to talk to him, and he would show me blueprints and how to price and bid houses."
With two brothers and a sister, Shirlene is the one child who has spent the most time in the building industry. "We always laughed that my dad was so surprised that I was the one who followed in his footsteps." She is the second born.
"I later worked for other builders, and then my first husband and I started Solis Builders. It went well, very well. People commented that they could see a woman's touch in our homes because of the details," Shirlene said. Her son, a very talented and imaginative carpenter according to his mother, joined the business too. "It was quite interesting to have family involved in a business that way."
After her first husband passed away she eventually married Rodney. He was ready to retire from a 28-year career as a sheriff's deputy in Racine, Wisconsin when he joined the company. He didn't expect to become a builder ("I thought I was retiring!"), but he bought a CAD software package to dabble with drawing plans. Shirlene taught him the business.
An elementary school teacher in a previous career, nowadays Shirlene works full-time for the Southwest Louisiana Area Health Education Center. However, she still focuses on Solis Builders in the evenings.
Both she and Rodney enjoy working with people, especially young couples who are so excited when they are building a home. "It's so encouraging when clients like your work. It makes us happy to see their happiness and to know that they're going to love living in that home," Shirlene said.
During the next five years the Benders plan to "build, build, build" because of the demand for houses in the Lafayette area.
And no doubt local homebuyers will continue to demand Solis Builders "progressive" homes.
You may contact Solis Builders at 337-896-5536 or [email protected] or
[email protected] or visit www.solisbuilders.com. 500 Pelican Ridge Cove Carencro, LA 70520