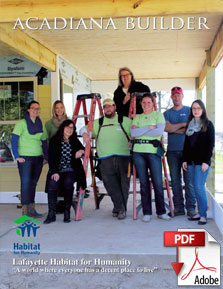 "A world where everyone has a decent place to live" That is the vision statement of Habitat for Humanity International — a vision which led to the establishment of Lafayette Habitat for Humanity (LHFH) in 1992. It all began with a group of local realtors, who were concerned that home ownership through the conventional market was out of reach for many hard-working, would-be first time homebuyers who had regular, reliable income but simply couldn't qualify for enough of a mortgage to purchase a decent home.  At their urging, the Lafayette Board of REALTORS came together to form the Affordable Housing Committee and after months of planning and fundraising, LHFH was officially incorporated on February 29, 1992.
Since opening its doors, LHFH has built over 100 homes in Lafayette and Vermilion Parishes, each of them in partnership with a future homebuyer qualified to purchase the home from Habitat.  This partnership aspect of Habitat — bringing together the future homeowners, community volunteers, and skilled subcontractors to build a home under the supervision of Habitat's construction team, and then financing the sale of the home via a no-interest mortgage — is what sets the organization apart from the typical homebuilder. As Habitat's Executive Director Melinda Taylor puts it, "We're a whole collection of businesses under one roof:  contractor, lender, community organizer, homeownership counselor, and now, with the addition of the ReStore to help us raise funds to build more homes, we're also a retailer."
Led by a small but skilled construction team, Habitat generally builds 6 to 10 homes per year. The most typical floor plan is a three-bedroom, two-bath cottage-style home of around 1150 square feet, with an additional 200-400 square feet of covered outdoor living space.  Since beginning a long-term neighborhood revitalization partnership in 2012 with the McComb/Veazey neighborhood in Lafayette's urban core, Habitat's volunteer Construction and Design team has focused on developing plans that fit well with the best examples of existing homes in that area. According to Taylor, "When we began talking with the folks in McComb/Veazey about what they wanted to see us build in their neighborhood, homes with livable front porches quickly rose to the top of the list."  As a result of resident input into the design process, Habitat has built a number of raised foundation houses in the neighborhood and incorporated more Craftsman-style details that echo the design of neighboring homes.
The organization works with local architects, including students and faculty of the UL Lafayette School of Architecture and Design, to carefully craft floorplans and elevations for its homes which are both appealing and practical. For its most recent development, a 13-home "pocket neighborhood" subdivision near East Pinhook and South Magnolia St., architect Bennett Sabatier of Sabatier Architecture, LLC designed several 2, 3 and 4 bedroom homes incorporating enhanced porches, distinctive front elevations, and efficient, open floor plans to pack a lot of indoor and outdoor living possibilities into a modest-sized space. Energy-efficiency and sustainability for homebuyers on a tight budget are also high on Habitat's priority list, with building materials chosen for longevity and ease of maintenance. By installing energy efficient windows and insulating its homes to create a tight building envelope, Habitat helps its homeowners keep utility costs low.
Like any non-profit organization, Habitat faces and manages certain budget restrictions with creativity, and its construction department is no exception. Unlike a traditional builder, Habitat relies heavily on volunteers to build its homes. Each home can see anywhere from 400-750 volunteers and requires roughly 3,500 combined, active hours of construction over the course of a 20 week period.
More often than not, volunteers on Habitat's build site have little construction or maintenance experience, let alone having taken on a project as daunting as building a home from the ground up. Luckily, experience isn't a requirement to volunteer with Habitat. "We take volunteers with any level of experience. As long as they're ready to swing a hammer and sweat a little, we're thankful to have them working with us," says Volunteer Services Director Joelle Boudreaux.
LHFH also works with skilled volunteers and consultants who give generously of their time and expertise. From surveyors and engineers who assist with site development, to the Lafayette Master Gardeners who donate plants, and help design and install the landscape for each new home, to volunteer attorney Shawn O'Neill of Prime Title who's handled dozens of Habitat mortgage closings, there's a place for professional volunteers with a wide variety of skill sets. As a 501 (c) (3) non-profit organization, Habitat is also governed by a volunteer Board of Directors who contribute their business and administrative skills to the development, design, and execution of Habitat's home building program.
However, no home would be complete without a homeowner. So, who is it that buys a Habitat house? The answer is not one you might expect.
LHFH offers a hand up — not a handout. People interested in starting a Habitat partnership submit an application, which is reviewed by a volunteer selection committee, and each applicant selected must be approved by the Board of Directors. "We get applications from people all over the spectrum of readiness for homeownership," says Homeowner Services Director, Sarah Scheitler. "The people that are selected into our program are the ones who are prepared to make the personal and financial commitment to building and owning their own home."
Once approved, Habitat and its future homebuyers enter into a Partnership Agreement which stipulates that a home can only be purchased if the buyers and their family help to build it. Future home buyers invest 300-450 hours of "sweat equity" work, the majority of which are completed on the construction site helping build other families' homes as well as their own. Scheitler explains, "There are three main take-aways our future home buyers earn through sweat equity work: new relationships with neighbors and community members, a sense of pride and ownership in the homebuilding process, and the acquisition of actual maintenance skills for the future."
Future homeowners also enroll in home maintenance and financial literacy courses, which help prepare them for owning and maintaining a home, as well as budgeting for a mortgage. Once construction is complete, and the homebuyer has completed all program requirements, Habitat sells the home at cost, and finances the sale with a no-interest mortgage. Additionally, Habitat services its mortgages, and payments are "recycled" back into the home building program. "Our homeowners making their monthly payments on time as agreed is the cornerstone of Habitat's sustainability," says Executive Director Melinda Taylor. "They are literally 'paying it forward' to help someone else receive the same benefit they have received, so their partnership with Habitat continues through the life of their mortgage and beyond."
Despite its stable economy, Lafayette residents still struggle to find safe, decent and affordable housing. A 2015 report published by the Louisiana Housing Alliance found that roughly 41% of Lafayette renters are spending 30% or more of their income on housing, meaning nearly half of the city lives in a cost-burdened household. However, LHFH hopes to reverse this trend. Habitat homeowners, volunteers, and supporters come from all walks of life and have the unique opportunity to interact with each other while doing something positive for their community. "In the end," reflected Homeowner Services Director Sarah Scheitler, "it is inspirational to watch a million moving parts, including donations of funds and materials, volunteer work hours, staff effort, and most importantly, our homeowners' dreams and hard-work, come together to build not only a house, or a community, but also a lifetime of hope."
For more information about volunteering, home sponsorship or donations and home building, please contact Lafayette Habitat for Humanity at 337-261-5041 or [email protected]