By Kathy Bowen Stolz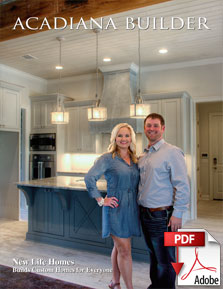 Eric Mautner, owner of New Life Homes, chose his company name carefully. Not only has homebuilding offered him a new life, but building a home for a family who will start a new life in that home excites him.
 "My goal is to provide home ownership to not only the wealthy but also to everyday, average people. Home ownership is a means of improving the livelihood of an entire community."
"People think you have to be wealthy to build a custom home. They don't realize that they can have a custom house in a very affordable price range. Any house that I build, whether it's $250,000 or $750,000, has custom features."
Mautner said his customers have options for every aspect of the home – window colors, cabinets, paint, countertops, brick selection, and shingle colors, even round sheet rock corners versus square sheet rock corners. And, yes, he also customizes closets, even on pre-sold homes.
"I get a sense of accomplishment taking an empty piece of land and filling that space with a home customized for those owners, a place where they will create their own memories. I get a real sense of happiness seeing people move into their finished house, to see the smiles on their faces. People love it. I love it."
Eric captures the excitement of each home's closing by taking lots of photographs. He typically posts some of those photos on his company's Facebook page because he's found that social media complements New Life Homes' word-of-mouth advertising and website. Eric himself manages his company's Facebook page. He admits keeping up with Facebook takes a lot of time, but "that's the way of the world these days."
His philosophy is to focus on quality, service and value. Customer satisfaction is very important to Mautner, which is one reason he tries to make the building process as painless as possible for his clients. He's found that customers appreciate his providing them with options and a timeline for decisions they'll need to make.
Mautner is proud to offer a 2-10 warranty ("The best in the business") on his homes. The company is also HUD and VA approved. He also doesn't turn his back on his customers after the sale. He wants his customers to think, "Yes, if I would do it again, he would be the one to call." 
He finds that customers appreciate being able to deal with the builder directly. He is the salesman, the general manager, the superintendent and even the financer at times. 
Wearing so many hats makes for long days and limits the number of homes he builds, but he said his customers don't have to wait for the builder to make a decision, which they might if he had superintendent as an intermediary. "There's no 'I'll check with him and see what he says.' They're dealing with the guy who's building the house. My company'ssuccess is directly related to my and sub-contractors' ability to deliver a product. My subs, in my opinion, are some of the best in the business."
However, Eric does have some assistance from his family and others. His wife Laura helps with a lot of the design elements – picking colors and interiors – on his spec homes, he said. His 14-year-old stepson Collin helps clean up job sites in the summer. Paige Gary Design is one of the interior design companies he uses.
New Life Homes typically builds 10-12 houses a year, according to its owner, who is a Youngsville native. "I'm not a mass producer. I try to do eight custom homes a year, with spec homes filling in the gaps in the schedule." 
Mautner partners with private investors or banks for many of his spec homes. He builds spec homes in established subdivisions where he's confident the house will sell quickly. He seldom builds multiple homes in the same subdivision, although he has built four houses in a subdivision in Meaux.
He builds all over the Acadiana area – New Iberia to Breaux Bridge to Crowley – in the area south of I-10. While most custom homebuyers will have a lot already, he offers a different way to custom build if a customer doesn't have a lot already. He will offer a turnkey package if the customer is approved and the criteria are met. 
He said he offers in-house financing because some people are qualified to buy a home,but they can't qualify to build. He acknowledges that not every builder will take out a loan for a customer, but he's dedicated to getting as many people as possible into custom homes.
"I just build homes as they come. I don't try to appeal to a certain group of buyers, such as first-time homebuyers, because I feel like that limits your appeal. It goes back to my goal of being able to build someone a home where they can make memories."
His homes range from 1,700 to 3,800 sq. ft. of living space. He said it typically takes six months to complete a smaller home and perhaps as long as a year to complete a larger home because of the level of customization those homeowners demand.
His five-year business plan includes developing a subdivision in the Lafayette area.
Mautner learned homebuilding first on the supplier side. His father bought a lumberyard called Parish Lumber & Supply in 2001, when Eric was studying chemical engineering at Louisiana State University. Eric just fell in love with the building process more than the engineering process and changed his mind about pursuing a career in the oil fields.
After ten years and a soured economy, the senior Mautner shut down the lumber yard business, and Eric transitioned into building, first constructing a couple of spec homes with a partner under the name of New Life Homes. He dissolved that partnership but kept the name New Life Homes. He said he really liked the name, and besides, he was building a new life for himself.
Eric Mautner enjoys his work as a builder, but the 12-hour work days do make it challenging for him to find time to spend with his family, which includes Kaylee,11, and Nolan, 7, in addition to Collin.  While the summer months provide the more free time for many people, for a builder those are usually the busiest months. He also doesn't have much time to enjoy his hobbies of hunting, fishing and going to the beach.
But he recognizes that the only time most of his customers can meet is in the evenings or on Saturdays, so he's committed to long days and short weekends. "It's a demanding job in a demanding industry.
"The thing I keep in mind, the thing that motivates me, is that I'll always be part of those families' lives. I'm giving these people a new life. They're never going to forget me. Whether they stay in the house for four years or forty, I'll always be a part of that memory."
You may contact New Life Homes, LLC, at 337-856-5733 (office) or 337-962-1800 (cell) or email at [email protected]. You may also contact the company at www.newlifehomesllc.com or 204 Tapestry Circle, Lafayette, LA 70508.