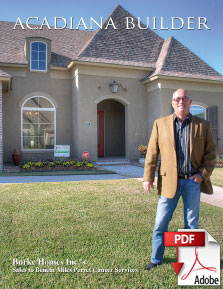 By Kathy Bowen Stolz
Many of us wish we could do more to help those in need, but longtime Lafayette builder Jon Burke is putting his money where his mouth is. Burke announced in late September that he will donate $10,000 per home to Miles Perret Cancer Services (MPCS) from the sales of his recently completed speculative homes at 105 and 107 Henry James Court in Lafayette.
But his generosity does not stop there. His five-year commitment to Miles Perret will include a $25,000 gift in 2017 when the spec house at 102 Henry James Court is completed and sold. Burke also will donate part of his profits from future homes as part of his commitment to MPCS.
The president of Burke Homes, Inc., said the donation program was his idea, as a way to give back to the community where he has built houses since 1988. The Miles Perret Cancer Services programs have enhanced many cancer patients' lives in the Acadiana area. Jon experienced the organization's programs first-hand with the care of his mother.
According to its website, Miles Perret Cancer Services is a haven for individuals and their families fighting, surviving and living with cancer. It provides emotional support, guidance, resources, programs and, most of all, hope. Its services are comprehensive and always provided at no charge. No appointment is necessary and there are no qualifications. Located in Lafayette, its mobile unit extends services to outlying communities throughout Acadiana.
Jon began his building career from the marketing side of the construction business. He had always been interested in building, he said, and had been working as a licensed real estate broker and appraiser when an opportunity arose in the 1980s to open Burke Homes with his late wife Annette as his partner. He was doing appraisal work at the time and saw the housing market coming back after a downturn in the oil and gas industries.
"I didn't really have any fears about becoming a builder. I'm on the job every day. I know what I'm looking for. I know the codes; I have the knowledge. I keep saying I'm going to get a job, but I've never had a regular paycheck in 40 years."
He noted that there are a lot of builders in the Lafayette area, but his knowledge and expertise sets him apart from others. Like the "big boys" in the construction world, such as the large tract builders, he understands the business side of building. He handles on-site management, estimating, financials and can help in securing proper lenders.
As a beginning builder, he found the tradesmen whom he could trust to build a house to his standards; as a testament to his ability to put the right crew together, he said, "a lot of them have been with me for almost 30 years."
Over the years Burke Homes has built spec and custom homes with price points between $175,000 and millions of dollars and with sizes ranging from 1,5000 to 6,000 sq. ft. Spec homes, which have been the focus of much of the company's building, were typically $200,000 and more, often providing a buyer's second or move-up home.
Jon usually has five or six houses under construction at any given time, but he has had as many as 17 underway at one time. "I've always sold everything I've built; some sold before they were done. It depends on the market."
Like all successful builders, he gets a lot of his business from word-of-mouth referrals. Jon prides himself on his customer service. As it states on the company website, "… our company is committed to exceeding your personal expectations and making your home building experience pleasurable. We are available round-the-clock to answer your calls and update you on the construction process. In addition, our company founder will personally deal with you and inspect the work site every day."
Burke noted that during his career he never had any custom homes go over their budget because of the construction costs. Overruns may have happened because of a customer's selections or changes, but Jon always alerted the buyers. "I want to be able to sit and have a cup of coffee with my clients once the job is complete."
He also has a page of testimonials on the company website, www.burkehomesinc.com. Homebuyer Craig Milburn offered this testimonial: "Enjoyable experience throughout the construction! Honest for treatment with quality construction.  If I ever built another home I would use no other."
In addition to the website, Burke Homes' marketing efforts include social media, but they also rely heavily on realtors. "I know what it takes to sell a house, and I let the professionals do it." Burke uses Van Eaton & Romero realtors to market his houses.
Over the years Burke has done both building and developing. Area subdivisions Jon helped develop are Copperfield South and Copperfield Estates, Beau Jardin and The Groves. In each case the subdivision was built out, he noted.
Burke said he tries to anticipate the housing market. The company has survived more than one economic downturn. "We are currently in a downturn in the local economy, but that's nothing new. You can count on a bust in the oil and gas industry every eight to 10 years. Unemployment in the area has gone up tremendously, but we will wait for the cycle to upswing again."
Nowadays he considers himself semi-retired, although he's not willing to throw in the towel just yet. "My next few years will not be about the numbers. The homes will be about quality, not volume."
Jon said he has found building to be gratifying, "that somebody accepted what you did and bought your product," which resulted in a happy homeowner. He added that he hoped his legacy would be that "he did a good job, he was fair and he was accessible." With his five-year commitment to Miles Perret Cancer Services, the legacy should include the word "generous."
You may contact Burke Homes, Inc. at 337-501-8231 or [email protected]. You may also visit the website, www.burkehomesinc.com.