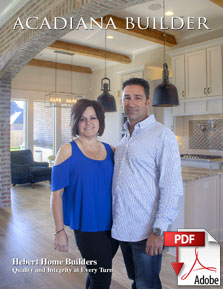 For Jody and Nicole Hebert, building custom homes is a marathon, not a sprint.
"A lot of people in this business are in it for the short term," says Jody Hebert, sipping coffee in between texts and calls from subcontractors. "That's not us. We're long term people."
The Heberts ran a successful irrigation company for over two decades before founding Hebert Home Builders in 2013. Over the course of 20-plus years, they honed their business skills and forged strong connections with clients and subcontractors. In just a few years, they've been able to transform their knowledge into a thriving construction company that prides itself in putting customer service first.
"We are a family company and we stand behind our name. Over the years we have built an excellent team that helps us stay focused and offer the very best customer service possible to each and every client," says Jody.
As they have assembled a team around them, one thing has remained constant – their love and commitment to one another.
"We've worked side by side for so long, it's second nature to us," says Nicole. "We're lucky to be able to work together and have a family. It's truly a blessing." Jody and Nicole have two sons, one daughter and a granddaughter. Originally from Morgan City, they relocated to Youngsville in 1996 and have lived there ever since.
"We wanted to raise our kids in the countryside, and we found the perfect spot," says Jody.
Living and working in the Youngsville/Broussard area, the Heberts have experienced first-hand the ups and downs of home building. "Like any industry, homebuilding comes with its' own set of challenges," says Nicole. "At the end of the day, we believe what you put into everything comes back. We value trust and integrity in every relation­ship, and we want to know that our clients share those values."
Building with integrity is not just a tagline for the Heberts, it's at the center of their business model. Hebert Home Builders has built custom homes in Walkers Village, Tuscany, Ella Trace, Grand Pointe, and Sabal Palms. Currently under construction on two homes, and breaking ground on another, Nicole and Jody are clear that, in the long run, quality outweighs quantity.
"Our goal is consistent, steady growth with a focus on excellence," Nicole explains. "We want to feel good about each home we build. It's not about volume, it's about the quality of our homes, and the quality of our relationships. That's the foundation of Hebert Home Builders."
As a team, Jody manages construction and Nicole manages the bookkeeping and designs all of the interiors. Their homes are designed to be energy-efficient with innovative floor plans, high quality craftsmanship and plenty of custom amenities. Jody explains, "There is so much that goes into building a custom home. Every detail matters. I've been in business for a long time and understand that the real work is in getting the details right."
Nicole continues, "We are as meticulous in our building as we are in our bookkeeping. We work everything out down to the penny and the finest detail. The same goes for our interiors – I have expensive taste," she laughs. "It goes against everything I have in me to put cheap stuff in a beautiful home. We stay within budget, but we never skimp on quality."
Hebert Home Builders' commitment to quality shines through in every aspect of their business.
"At the end of the day, we have to go home and lay our heads down knowing that we did our best," says Jody. "Our clients are putting everything they have on the line to buy the home we build for them. We respect that relationship and we want them to succeed. We want them to love their home and enjoy it for years to come."
In fact, Jody Hebert is famous for doing his own punch lists before the customer, once producing a three-item punch list from the home buyer – a feat that is nearly unheard of.
"I think for him it gives him fulfillment," Nicole said. "He's doing something that's actually tangible, that you can see. People can look at it, appreciate it and they love it. To have someone love a house that we built as much as we do is just the icing on the cake."
The Heberts have made an instant impact on real estate agent Kelly Streva.
"Hebert Home Builders really do deliver houses built with integrity," Streva said. "Jody and Nicole are not only great builders, but are also great people. Delivering excellent customer service while building an amazing house is of utmost importance to the both of them. They really do care about each client and each house."
Hebert's 2017 Parade Home is a two-story monument to his home-building philosophy.
"Quality is the most important part of building a home," Jody said. "It's a balancing act between quality and price, but you can't sacrifice quality for price. This is a home where my customers are going to be living every day. That's a big deal to me."
"High quality is a big deal to Jody and me," Nicole said. "We work as a team to assure high quality, of not only the finishes but also what's under the sheetrock."
Walk into the home and elegance and attention to detail are striking. The high square ceilings in the living room are separated by a brick arch as you transition into the kitchen. The 12-foot ceilings stretch down to wood floors that boast of durability and class. As you walk up the stairs your senses are ignited with the faux-finished accent wall at the turn.
The black-iron handrails give a timeless feel as you waltz up the steps. And a little nook area is waiting at the top of the stairs, where you can relax and read your favorite book or just enjoy the natural light that pours through the windows.
"What I do is make sure when you walk in the door, you see all the finishing touches that really make a house pop," Nicole said. "Even though we build houses that vary in architectural style, size, and floor plan, you can rest assure that our houses are well-built houses with lots of amenities that are going to stand the test of time."
Each spare bedroom has its own mini walk-in closet, complete with shelving and a feel of luxury.
The master bedroom has 10-foot ceilings and a bathroom that boast a four-barrel ceiling. The marble counter tops and hardware on the cabinets remind you that no detail was too small to overlook. That comes with years of the Heberts working as a team.
So what separates Hebert from the rest?
"We pride ourselves on integrity and customer service is No. 1," Jody said. "It's hard to do either of those things if you're not building a good home. We look for every little thing and make sure that it's built right the first time. It's important to us that our customers love their home."
"I want them to be 100 percent satisfied," he said. "It's like I tell them. I don't have to live there. They have to live there."
Streva offered a very strong opinion on the couple.
"I cannot say it enough. Jody and Nicole really are amazing builders. And, they take the creation of their beautiful homes personally because they want to be sure that each one meets their high standards. They aren't just building a mere structure. They treat every house as a work of art, and it's evident as soon as you walk into the front door of a Hebert Home Builders' home."
Hebert Homes truly delivers quality at every turn.
For more information contact Kelly Streva, with Coldwell Banker Pelican Real Estate, at 337-356-9835 or 337-233-9540.