Rader Insulates Against Energy Loss
By Kathy Bowen Stolz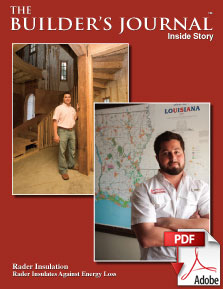 Although Nick Rader grew up working in his family's lumber business, he found filling the spaces between a house's wood studs to
be his calling. He started Rader's Insulation, based in Lafayette, Louisiana, in 2002, and the business has grown steadily since. It now has team members in Ville Platte, New Orleans, Metairie, Baton Rouge, Lake Charles, and Abita Springs.
"There are very few products that you can put in to your home today that actually will save you money. Many consumers today only worry about the mortgage costs, but they need to be aware of the electric
bill. A house's insulation and air conditioning control the energy consumption that you use; it is a bill that never goes away as long as you own your home," Rader said.
"When I upgrade my customers to a better quality product, I know they will get back what they spend. That's not true in very many things. When you upgrade your car, it's just about comfort because your gas isn't cheaper. With quality insulation I can normally cut someone's light bill by 50 percent. If that doesn't sound like much, I can generally save a consumer about $1,500-2,000 per year. Multiply that by 10 years or more, and it really adds up," Nick said.
"Helping my customers save money makes my job enjoyable," he added. When Nick started his company, "I promised myself that Rader's would be known for three things: quality products, great service, and affordable prices," said Nick. "It didn't take long to build good relationship with customers. But having my brother Neil Rader join the company in 2007 has helped our business grow in multiple ways that it couldn't have achieved early on. It was literally like I was duplicating myself, which allowed one of us to always be on our job sites. Having an owner on-site makes a huge difference to our clients. We make it more personal," Nick noted.
Who are his clients? "Residential builders, commercial contractors, and individuals are our core business. Basically our clients are anyone building a home or a commercial project of any size we can handle," Rader said.
"Most contractors don't just build one kind of house. Sometimes they're working on high-end products; sometimes they're focused on spec homes; and sometimes they've got a little bit of both going on at the same time. They need an insulation company that's diverse and can accommodate different products for different projects. We are that company," said Nick.
"Every year, Rader's has added something new, and we've taken time to learn the mechanics behind those additions so that customers feel confident they're getting the very best products from knowledgeable experts," explained Nick.
Rader offers every insulation type currently on the market, including fiberglass, cellouse, rockwool, open- cell/closed-cell foam, polyurea, silicone coating, fire foam, radiant barrier, vinyl insulation, and more.
"When consumers ask me what insulation is the best, I ask them for the situation. There is no one insulation superior to any other one. It depends on the surface you are spraying and the dynamics. For example, I recommend different products for the exterior than the interior and different types for metal or wood spraying. This is where my experience and my guidance really make the difference," he explained.
Rader stays focused on quality in both products and installation. "I'm always trying to stay a step ahead in my field. I stay connected with multiple insulation suppliers to find new, innovative products coming out on the market. For instance, one of my suppliers just came up with a fire- resistant foam. In the past we would have had to coat this product with a barrier; now this new product will cost less and save my clients time on their projects.
"I also do energy analysis on homes that I insulate in different ways to see where we can get the best bang for the buck. And I am the only insulation contractor in Louisiana that is air- barrier trained."
To improve the field at large, Rader is currently to get insulation included as part of new home inspections because no one is currently checking on the accuracy, quality, and installation.
Rader's passion about his industry is evident when he talks about some contractors' cutting corners. "I've seen insulation jobs done by other companies, and the consumers are not getting what they paid for. These are not small mistakes – they're mistakes the consumers will pay for the entire time they live in the home.
"I don't like that other companies cut corners on their products, or fluff up air when pumping (insulation into) the attics or walls. The builder thinks he's getting a better deal, when, in actuality, the insulation contractor is just cutting the material. This would be the same as if gas is $4 a gallon, but down the road the gas is $3, but they have water in it.
"Of course this would cause your engine problems, just as not insulating properly causes mold, high electric bills, stuffiness, and cooling issues."
Although contractors may think that applying insulation doesn't demand any special skills, Rader Insulation provides the quality, integrity, experience, and knowledge to do the job properly to ensure its effectiveness.
"I can assist them (contractors) with getting federal and state rebates, ensuring they have everything done in proper order to get the full rebate. When I talk to many homebuilders, they don't even realize you can get $5,000 in rebates when they foam a home now [previously it was $3,000]. Now the $5,000 rebate is offered even to a spec builder!"
Another advantage to using the professionals at Rader Insulation is their expertise. Because insulation greatly affects how the home will respond to its air conditioning system, homebuilders probably won't have the correct calculations to make their system work properly, Rader said.
"In addition, I can generally supply material with my labor cheaper than if a homebuilder buys the material direct. Our service is second to none — we have seven vehicles available on a just-in-time basis. Our motto is to give people the best quality and the best price."
Contact Rader Insulation at 1602 W. Pinhook Road, Suite 201, Lafayette, LA 70508, or by calling 337-247-3406, or by visiting www.raderinsulation.com.