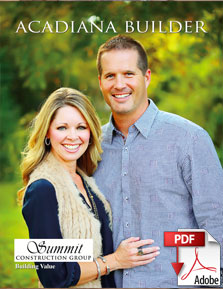 Passion, wealth and family can all be represented in a house, but for Summit Construction it's the quality and maximization of value that are the most significant contributors to the lasting impact a home can make.
At the center of that push toward value is Brady Mills – a 41-year-old husband and father – whose latest undertaking is a new subdivision in Broussard (more on that later).
Mills, a man who avoids the spotlight and is as humble as his subtle Texas drawl would indicate, established Summit Construction as a premier builder and sincere part of Acadiana.

"The building process really can be a fun process," Mills said. "I've come away with a bunch of friends out of this business too. Being able to joke with them and have dinner with them after the project is really neat. Especially when they come back around again and say 'Hey, we're looking to build another house,' or 'we're looking into doing a commercial building.' That's when it really starts to feel good."
A simple mantra allows Mills and his team to consistently deliver and continue those "good feelings."
"We want to deliver a quality project that is pleasing to our customers and see everyone succeed out of it," Mills said. "When you get everybody to win in a project – that's the sweet spot and everyone walks away feeling good about it."
Mills' fingerprints are on everything he builds. He allows his team members and trade partners to take the credit — like any good leader or coach — but at the end of the day, it's his moral compass and beliefs that shine through in his work.
Mills was raised in Henderson, Texas – an enormous football town where he regularly played games in front of 14,000 people. Despite Henderson's affinity for football, baseball was Mills' love.
Mills worked his way through the junior college ranks before ending up at the University of Southern Mississippi in Hattiesburg, Miss. He led the 1998 Golden Eagles baseball team in stolen bases and walks in 1998. That patience and opportunistic mindset allowed him to score the second most runs in a single season in school history – and still allows him to maintain his edge in building world.
Mills said he obtained the patience from his father – a lifelong cattle rancher.
"My dad did a really good job of letting us be a part of the cattle operation," Mills said. "There were times when we did a lot of free work, but there were times when he rewarded us when he got rewarded. So instead of working on an hourly deal, once he had a big sale, he would turn around and reward us. I learned how to work for free at an early age."
That ability to enjoy delayed gratification makes Mills a unique builder. He recounted a story about how he helped a couple to purchase their first home, when others had turned them away.
"They had to get some things in order financially to make it work," Mills said. "So, we sat down and got a list of things that they needed to do to make it work. It was an itemized list and they did all those things and we were able to build a house for them and get them in their house.
"To their credit they did every single one of the things we asked of them. It was awesome to see someone who was adamant and hell bent on getting their stuff done. You know you're going to sacrifice time for something that may or may not come on the back side, but ultimately may be more fulfilling."
Mills' personal home, located in the Sugar Mill Pond area of Youngsville, is overcome with light as it pours over the oak wood floors and open kitchen — if you let her know you're coming, Mills' wife Angela just might serve you a bowl of gumbo. The 12-foot ceilings are broken up with large beams and the back yard features a tongue-in-groove ceiling that covers an outdoor kitchen. Mills admits to spending most of his downtime there.
A shotgun swimming pool is introduced with a shimmering tanning ledge adorned with reflective rainbow tiles. Waltz up the stairs to find two bedrooms and an office where Mills prepares his bids.
Summit's latest project is a new subdivision with his business partner, Talbott Ottinger — Cote Gelee (French for "frozen hill") right off the Youngsville Highway in Broussard next to Stine and Les Vieux Chenes golf course. A slightly scaled-down version of Mills' home can be obtained for less than $300,000.
Denise Kartsimas of D.K. Designs selects all the interior touches – from the cabinets and countertops to the floors – each decision intensifying the home's maximum value. A vent-less fireplace is the centerpiece of the living room that is bathed in light from the large windows next to the patio. The backyards are massive with plenty of porch space to be comfortable.
"We just started marketing today," Mills said with a smile.
Mills will be applying a team concept to this undertaking. He'll be assisted by Angela Guidry, a "jack-of-all-trades" according to Mills, who will run the office and do the reporting. Thadd Prince is the project manager who keeps things moving along in a timely manner.
The subdivision holds 60 lots that will boast large yards and aren't quite as crowded as some other neighborhoods in that price range. The location lends itself to quick access to Ambassador Caffery Parkway, connecting Broussard to the new thriving center of Lafayette.
Mills said he has had challenges with all kinds of developments and all kinds of customers, but those challenges have vastly improved his abilities in the industry.
"We spend a lot of time trying to hone the cost side of it," Mills said. "We've gotten better at that. We do a detailed reporting process. We use a purchase order system. We can show you any detail you want to see and we're not bashful about that transparency either."
Coaching his two children, Austin and Addison, has become a passion for Mills. Oddly enough, Mills said he draws on his experiences coaching youth sports to help him as a business owner and leader.
"Coaching youth sports is a learning process for those who are coaching it, too," Mills said. "They're learning how to communicate with a child and that evolves over the years as you coach them.
"We were talking to our team and I made a statement and all the kids just nodded. So, I stopped and asked them if they knew what that means and everyone just shook their heads no. I figured out that if kids don't do something you asked them to do, typically it's because you didn't communicate it to them and I think that some of it I can bring over to my customers and dealing with our trade partners."
Mills said that ability to communicate can lead to fewer "unpleasant conversations."
"It would be easy if you could just show up and build something," he said, "but there are just too many
stakeholders involved for everyone to feel like they've come away with exactly what they wanted. Meshing the interests of all the stake holders is far and away the most challenging. The tough conversations happen on all levels so trying to mesh those interests is probably the most difficult."
Mills ensures whether it's an upgrade, a downsize or the purchase of a first home, Summit Construction will make sure the home not only represents the person, but that it maintains a high level of worth.
"Everyone who sits in here tells me they want quality," Mills said. "They want attention and they do, but at the end of the day they want something that they have some value in as well. They want to know they're getting the best value possible."
Contact Info:
Summit Construction
Office# 337-856-0970
Brady Mills
[email protected]