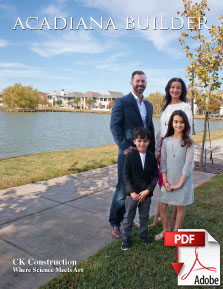 By Kathy Bowen Stolz
Paul "Cutter" Kates is one of those people who is open to new opportunities, who likes working for his own success and who's willing to take a risk.
So it may be fated that he would become a builder and start his own company, CK Construction, two and a half years ago. Or, as he put it, "It's one of those things where the pieces fell together, the connections fell in place." He believes in serendipity, for he has crossed paths with it both professionally and personally.
Three years ago he got tired of the grind of working as a project manager for IT network security and for his family's cell tower construction company. He wanted to do something where he could be creative, where he could express his artistic side. It struck him one day that building homes would be an opportunity to match his detail-driven, project-manager skills to his artistic sensibilities.
He came home and told his wife Amel that she needed to get her real estate license while he was going to get his contractor's license. She thought he was being funny, but they both followed those paths, "knocking down every challenge along the way," each becoming successful while occasionally working with each other.
As a "one-man show," he handles the land acquisition and project management aspects of building as well as the bookkeeping and interior design selections. "Every day is a challenge; it's like herding cats, but that's part of the thrill, making sure the cats line up. I haven't yet met a part of the job I haven't liked." Working with people is his favorite part of the job, he noted.
He said his day typically starts at 4:30 a.m. working at home and winds down at 7 p.m., again working at home, although he stops by his office daily. While his schedule doesn't leave much time for community activities or his hobbies of fishing and playing the guitar, he always makes time for his children, Noelle, 8, and Zain, 6.
With two houses typically under construction at a time, Cutter often works with Southern Lifestyle Developments to pick lots he'd like to build on. He keeps an inventory of lots available, although those lots may be in different stages of development. Not only is Sugar Mill Pond subdivision in Lafayette his favorite location to build, but it's also where he calls home.
He also works closely with architect Kevin Royston of Design Perspectives on the design of his homes and occasionally consults an interior designer.
While building a custom home means he is fulfilling someone else's vision, he said building spec homes is where he gets to have fun, fulfilling his own artistic vision. In the future he anticipates continuing to build spec homes, maintaining a 50/50 or 60/40 split between spec and custom homes.
He acknowledged that he's the new kid on the block for Lafayette builders, and he takes advantage of chances to learn from other builders when the opportunity presents itself. He said he's starting to get "organic referrals," with more phone calls and word of mouth referrals coming in daily.
Cutter (a nickname he received when his older sister couldn't say Paul Curtis) likes to think about the concept of each house he builds. Should it be coastal style? Industrial? What kinds of features will attract people and make it a desirable product?
When he gets an idea, he will rely on many resources to see how best it may be implemented in one of his houses. He cited examples of consulting the Internet, architectural magazines and even trips to New Orleans to see how an old rustic beam might be used in other houses. He also looks to other builders locally to see their ideas, but he typically will implement those ideas differently rather than copy them directly.
He said he always consults his wife to learn what she sees as trends in the market in design styles and price points. He doesn't want to build a house too big or too little that won't sell in the Lafayette market. "She's all about data and hard facts. She's a great resource to have."
"We go to each other for advice, but we steer our own ships," Kates stated. In addition to social media, he uses Amel's skills to sell his spec homes. "My wife is amazing at marketing. She leaves no stone unturned." He bragged that she's been super successful, becoming a Top Five producer for Coldwell-Banker Pelican since she started selling homes.
Amel worked in international publishing sales before marrying Cutter and relocating to Lafayette. Their unexpected meeting 10 years ago in New Orleans, where she was visiting for her job, from her native England and he was visiting, was another example of serendipity in his life. They've now been married nine years.
He expects to remain a small builder, probably building no more than eight houses a year, because he wants to be able to control the quality of his homes.
Cutter said he revels in the details of each home, and when building a top quality home, it's paying attention to those details that are paramount to building the best product possible. "I'm the most laid-back person you'll ever meet, but I walk through every house I build at least twice a day" to make sure everything is being done correctly. As an example, he said he arrives at a building site at 4 a.m. to check to make sure everything's level before concrete trucks arrive.
"Our product is our best marketing tool. We're a small company, and we build a very beautiful family home, delivering a family home that someone can enjoy for a long time. We want it to be your 'forever' home, even if you don't stay in it forever."
CK Construction homes average 2,200 to 3,000 sq. ft. and range from $350,000 to $450,000. Consequently, they attract people who are buying a home for the second or third time, he said. Their buyers' ages range from 20s to 40s with some as old as their 70s, he estimated.
With a background in IT, Kates said he loves to include some technology features in his houses, such as keypads on the door or smart thermostats or Cat 5 wiring so the "bones are there" for homebuyers who want to include more technology. "Some people aren't tech savvy. I don't want to sell them something that will overwhelm them or they won't use, but we want the home to be as flexible as they need it to be."
Cutter's goal is to continue to build beautiful family homes for the people of Acadiana and to ensure those homes are held to the highest quality standards. He anticipates spending his career building homes, with perhaps a few commercial projects in the mix. "I love building homes and the people I've met and the knowledge I've gained. I've had no bad experiences so far. For the foreseeable future, this is what I want to do."
You may contact CK Construction at 119 Veterinarian Road, Lafayette, LA, 70507
or by calling 337-356-7351 or by emailing [email protected]. You may also visit www.ckconstructionla.com for more information.